Czech Time is a comprehensive online textbook whose core features are grammar lessons and vocabulary topics.
To help you get familiar with the website, most pages have a icon in the top right corner which you can use for information.
Learning grammar
The grammar course is designed in such a way that you can start it without any previous knowledge. We highly recommend to follow the lessons in the given order without skipping. Not only could you miss important grammar information, but the system will not count any skipped lessons towards your statistics.
After reading the introductory Lesson 0, you should continue to Lesson 1. If you are more advanced or you are looking for a particular topic, navigate yourself to the grammar list.
Here is an explanation of the features at the top.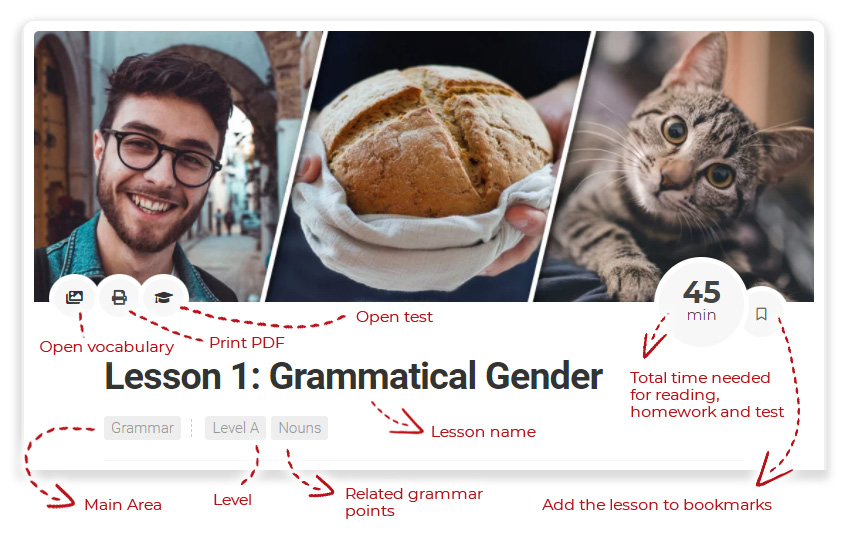 The icons on the left provide a quick navigation to the lesson test and vocabulary page as well as access to a printable PDF document. On the right, you can see the estimated time needed for doing all tasks related to the lesson (reading, doing homework and finishing the test). You can also save the lesson to your bookmarks for future reference.
Printing PDF
– After clicking the
button, wait a few moments and either print the document or save it into a PDF file. Each lesson is exactly one A4 page, so you can keep it organised offline in your favourite binder.
Moving on, there is the main part of the lesson.
Photos – Czech Time is a vastly visual textbook. Every lesson is accompanied with dozens of photos to help you emerge into the matter. Even every new word you learn on this website has an illustration to help you memorise it.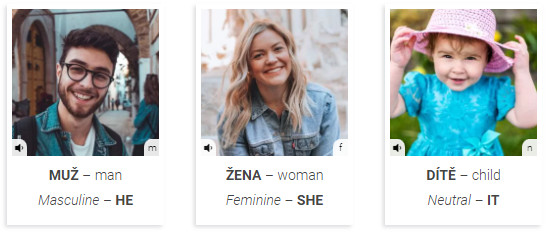 Audio – All visual content goes along with audio records. Just click on any picture and listen to the Czech text associated with it.
Genders – If a noun is being explained, the little bubble with a letter on the right informs you on the grammatical gender associated with this word. Once you learn what it is, you will greatly appreciate it! 🙂
After the main part of the lesson, at the bottom of the page, there are useful sections you will need to use regularly.
Finished reading – First of all, after reading the lesson, always click the button designed for it.
Vocabulary
– There are approximately 30 new words in each lesson. This may seem like a lot, but not all words have to be memorised immediately. It is advisable to go through the vocabulary page before starting the lesson and also after finishing it. You can also access the vocabulary page by clicking the
icon at the top of the lesson.

Homework – Every lesson has homework. You can write it offline into your exercise book or use the discussion section at the bottom of the page. Either way, after doing the homework, click the respective button for saving your homework progress.
Test
– Every lesson is accompanied with a carefully designed test which examines the current topic. There are approximately 4 exercises in each test and doing it should not take you more than 15 minutes. Any test can be done as many times as you want. It is recommended to reach 100% and do old tests regularly for revision. You can access the test by clicking the
icon at the top.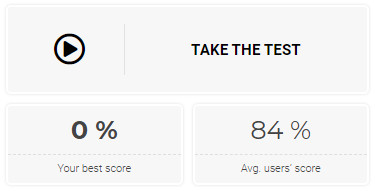 All text inputs are sensitive to Czech special characters (R x Ř). Read How to write Czech characters on keyboard? for more reference. On the other hand, tests are not sensitive to uppercase and lowercase letters and do not take punctuation marks into account.
Personal notes – You can add your own notes to every lesson. Use this space for writing helpful information in your own language or for pointing out what you would like to come back to in the future.

Navigation buttons – To help you move between lessons, you can use the navigation buttons at the bottom of each lesson. If you want to find any other lesson, use the All Grammar page instead.

Discussion – In the discussion section, you can share your homework efforts or ask any questions related to the grammar topic. Our professional teachers will try to respond and clarify the issue as soon as possible.
When contributing to the discussion, the Homework button is the default selection. If you want to comment or ask a question, please click on the Comment button instead.
We in Czech Time believe that spending time on revision is crucial for success. Apart from all above-mentioned, you will have other opportunities to consolidate knowledge.
Revision Lessons – After every three lessons, there is a Revision Lesson which focuses on practising recently learnt grammar points. These lessons always include Reading, Listening, Speaking and Writing.
Overview Lessons – On top of that, every 10th lesson is a complete overview of what you learnt in the past nine lessons. There are informative statistics of your progress, new words and grammar for which there was not place in normal lessons, and intense homework and test.
Learning vocabulary
Grammar lessons will provide you with enough words, but it may be more practical for you to browse them in topics which are well organised into areas such as Home, Nature, Food, Travel etc.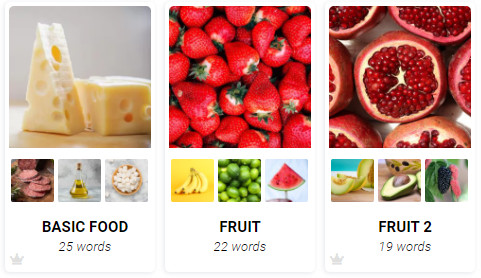 Every vocabulary topic has the maximum of 30 words. Some larger areas are divided into more topics and are numbered (such as Fruit above). The higher number always indicates less usual and more difficult words.
Please note that Czech Time uses British English for all words. This can be confusing in certain areas such as Clothes or Furniture. To identify the word correctly, always look at the picture which can usually define the vocabulary even without using words.
Unlike grammar lessons, vocabulary topics don't have to be taken in any specific order. You can choose whatever you want to learn. If you prefer to be guided, simply follow the lessons which appear on the main Vocabulary page.
Vocabulary topics have the same features as grammar lessons. The words can be printed or exported into a PDF file, saved to bookmarks and there is also homework and a test associated with it.
Apart from that, you can hide the Czech or English version of the word, and the gender bubble. You can also click the button to randomise the whole vocabulary list. All of this can be useful when practising the words.

Vocabulary tests – Tests of all topics have a fixed structure – they practise gender/conjugation, listening skills, translations with spelling and passive understanding.
After finishing the vocabulary test at least once, you will get an option to practise each of these areas individually. For example, if you prefer to test all 25 fruit words as listening, you just click on the respective icon. This feature can be found at the bottom part of the vocabulary page.

Please note that these practice tests do not count towards your overall statistics.
Seasonal vocabulary – On the front vocabulary page, there are also themed decks with words related to Czech holidays and important events such as Christmas and the Olympic Games.